Validyne Goes Mobile With Smart Phone App!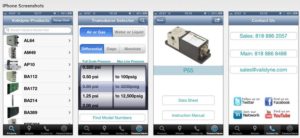 Now you can put Validyne on your iPhone with our new product phone app. You can download from the link above. iPad and Android versions of this app will be available soon. Now you can carry everything you need to know about Validyne products with you wherever you go.
The app lists all Validyne products and alphabetically and you can scroll through them to find the product you need. Tap on the model number and you will go to a details page with links to the data sheet and instruction manual for that product.
The Validyne YouTube Channel is also accessible and can be used for trouble-shooting and product presentations directly on your smart phone.
The app also includes our Transducer Selector – enter the pressure measurement type, pressure range, fluid and line pressure and the app will produce links to the appropriate Validyne products.
There is also a contact page where you can send email or have your iPhone dial us directly.
Download the app today and take us wherever you need instant information about Validyne products.