Pressure Sensors for Extreme Environments
The Validyne DP10 differential pressure sensor and AP10 absolute pressure sensor have a uniquely rugged design and construction that allows the pressure sensor to be used in extremely challenging measurement environments.  The DP10 all-welded pressure sensor is available in ranges as low as ±0.08 psid to ±3200 psid and the companion electronics will provide a standard electrical signal of ±5 Vdc, ±10 Vdc, 4-20 mA or digital outputs via USB, CAN Bus or RS485. The accuracy of the sensor including non-linearity and hysteresis is 0.5% full scale. Paired with certain Validyne demodulators an accuracy of 0.25% full scale or 0.1% full scale is also available. The supporting electronics for the the sensor can be remotely located up to 100 feet away. There are also multichannel rack-mounted electronics and digital interface options available.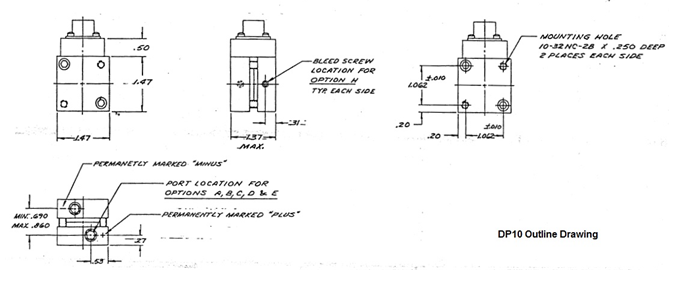 The DP10 pressure sensor has all-welded construction, there are no elastomer seals, no moving parts or linkages, no sensor fill-fluids and a limited number of non-metallic construction materials.  Constructed from an all 410 stainless steel block, the pressure sensor can be used with both gases and liquids. The DP10 pressure sensor consists of a sensing diaphragm that is welded between two steel blocks that contain coils wired as a half-inductive bridge.  The sensing diaphragm moves only about three thousandths of an inch under full scale pressure, but even this slight displacement is sensed by impedance changes in the coils.  The coils consist of copper wire wound around a laminated iron core, all embedded in the sensor housing by high grade epoxy.  The coil face is covered by an inconel lid.  The sensor cavity will accept liquids and gases and is just a few thousandths of a cubic inch in volume.  The shallow sensor cavity, all-welded construction, small size and solid sensor body make the DP10 pressure sensor mechanically very robust.
The DP10 pressure sensor has been successfully used in a number of extreme environments.
Cryogenics –  NASA selected the DP10 pressure sensor for use in a liquid helium transfer system for use in space.  The DP10 pressure sensor was used for pressure measurement across venturi flow meters at temperatures of just a few degrees Kelvin. Source – A Low Cost, Self-Acting, Liquid Hydrogen Boil-Off Recovery System – NASA | Two-Phase Cryogenic Flowmeter: A Proof of Concept – Florida State University | Cryogenic Helium Pipe flow facility with unique double-line molecular tagging velocimetry capability.
Radiation – A national laboratory used the DP10 pressure sensor to measure pressure build up in vessels containing disposed radioactive materials.  The pressure sensor was exposed to radiation over such a long term that it was not designed for recovery or contact by humans.
Shock and Vibration –  A DP10 pressure transducer was used for years in the Validyne trade show booth to drive 16d nails into a 2X4 with a hammer to demonstrate the ruggedness of the sensor to extreme shock.
If you found this article useful, click here to subscribe to our newsletter for monthly emails with application notes and product solutions. Feel free to contact our sales engineers at sales@validyne.com for more information on the products and solutions in this application note.