Introducing the Validyne University Website
Validyne invites you to a closer look at one of our latest projects, the University Validyne website, which will enable us to enhance our engineering program and better serve our customers by partnering with university lab programs. Learn more about a history of partnerships with universities, as well as have the chance to see first hard which products and services are currently popular in the university labs.
About Validyne Website
Validyne Engineering is a leading manufacturer of variable reluctance pressure transducers as well as pressure sensors and data acquisition solutions. The University Validyne website will enable our customers in the educational fields to learn more about our impact on the learning environment.
Validyne pressure transducers, pressure sensors, and signal conditioning have been in use in laboratories for graduate and undergraduate students since 1970. Our full scale pressure range of transducers, sensors and vital data acquisition systems are in use in a variety of learning environments including:
Fluid Mechanics
Biocric Research
Mechanical Engineering
Civil and Environmental Engineering
Mechanical and Aerospace Engineering
Geotechnical Engineering
Our products are being used in research labs for numerous case studies and research projects such as:
Cryopreservation of human pulmonary tissues
Tubing Networks for Full Scale Pressure Measurements
Mechanics of Fluids and Transport Processes / Aerodynamics Lab
Wind Tunnels
Programs to Meet Changing Needs
Pressure measurements are constantly changing and, in order to keep up, university laboratories need access to pressure transducers whose range can be changed. This is the best choice for laboratories.
Our data acquisition products provide flexibility and accept any sensor inputs including strain gages, Validyne pressure transducers, thermocouples, RTDs, LVDTs, resistances and DC volts in any mix or combination. These products combined with our Easy Sense software and USB interfaces, provide conditioning that can be quickly programmed to meet changing needs.
At Validyne Engineering we are proud to offer our superior products and services to university laboratories. Together with universities, we are building on a future for the engineering field.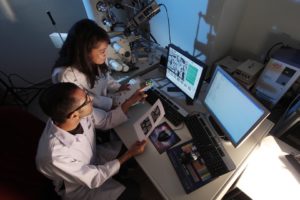 Comments are closed