A Closer Look at the USB2250 Data Acquisition
As a leading manufacturer of variable reluctance pressure transducers, we at Validyne Engineering make it our top priority to provide our customers with the latest technological advances. That is why we are pleased to introduce the USB2250 Data Acquisition.
What is a USB2250 Data Acquisition?
The USB2250 is a sensor interface that provides real world data acquisition for your PC through the USB port. Up to 16 different sensor inputs that are accepted by the USB2250 in any mix or combination with no external signal conditioning required.
All in One Configuration via the USB2250 Data Acquisition
When we say that up to 16 sensors are accepted no matter the mix, we mean no additional equipment or configuration is required. Thermocouples, RTDs, strain gages, LVDTs, potentiometers, VR sensors and low-level DC voltages are all wired directly to the terminal block..
In addition, the USB2250 Data Acquisition features 10 full scale input ranges from ±20 mV to ±10.24V full scale all with 16 bits of resolution. There is zero offset correction for low-level measurements. The USB2250 Data Acquisition also provides polynomial linearization for thermocouples and RTD's. It produces a floating-point value directly in engineering units.
Included Software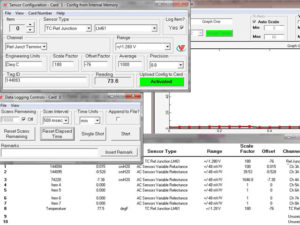 Software includes a GUI configuration utility that gives the user the opportunity to set sensor type, gain range, channel, and other parameters. Easy Sense 2250 data acquisition software is included with Graphic Capabilities and Trigger Functionality included in the Premium Easy Sense version.
A LabVIEW VI is available for seamless integration to your existing software setup.
Exciting Uses and Possibilities
Data acquisition is the process of measuring electrical or physical phenomenon like voltage, current, pressure, temperature, or position with a computer. The USB2250 is a vital tool for those working in the oil, automotive, or medical industries and many more!
At Validyne, we work hard to provide our customers with the best equipment experience no matter where they operate. Providing equipment like the USB2250 not only makes the job easier, but is a more cost effective solution for sensor inputs to a PC.
Comments are closed